Organifi Your Life
Now you can get all your healthy superfoods in one glass...
No Shopping, No Blending, No Juicing, and No Cleanup.
What the people are saying!
Organifi green helps with reducing inflammation, aiding recovery and replaces nutrients and minerals after training. Being a vegetarian it fits my lifestyle perfectly.

Debbie B, Triathlete
Overall, my experience with both Organifi Gold and Green Juice Powder has been a positive one and would highly recommend to everyone making an effort to get healthier to feel better and stronger. 

Barb C
My saving grace was the Believe Transform Studio where I was introduce to Organifi. I am free of arthritic medication and my skin care is spotless. 

Sandy R
I believe the Organifi Green Juice is a superior all-natural product that has most definitely contributed to my renewed energy boost as well as my overall feeling of wellbeing. I would not be without my Organifi. 

Susan M, Author
I use Organifi Complete Protein as well as Organifi Green, Red and Gold, all on a regular basis!  I love that it is plant based and offers high quality organic ingredients!  I highly recommend it!

Linda W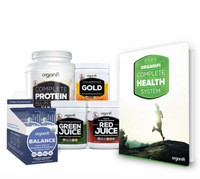 Organifi Complete Health System
If you're ready to get serious about weight loss… reversing the clock on aging… releasing those stiff, sore joints… and allowing your immune system to reach its full potential...
For those who want fast, lasting results... for those ready to stop messing around... for those ready to take a serious step toward full body health...
We've got the package for YOU.
Shop All Bundles